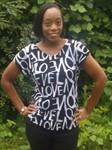 Phone: 205-841-7541
Email:
Degrees and Certifications:
Shanice Harris

Contact info
Email – harris.shanice@tarrant.k12.al.us; harrisstarrant@gmail.com
Phone - 205.841.7541 (Main Office); 205.402.8399 (Cell)
Planning Period: 8:15 - 8:50 AM
ClassDojo Sign Up – Information to join was sent during first week of school.
_____________________________

Hello all! I am so thrilled to continue my teaching journey at Tarrant Elementary this 2020-2021 school year. This will be my third year teaching at TES! I was born and raised in Montgomery, AL. My husband and I have been together for the past 12 years, recently marrying October 2017, and we share an awesome 11-year-old son who plays baseball. I'm a reality & drama TV junkie, video game addict, and football fanatic. WAR EAGLE & GO GIANTS! =)

I received my Bachelor of Science in Education from Auburn University Montgomery in 2016 with class B certifications in both Early Childhood Education and Elementary Education. I am a proponent for student-centered, constructivist-based learning environments which grant opportunities for student ownership of their learning. I believe that students do need a strong foundation in the core curriculum to apply their learning into the real world but with more than just textbooks to exemplify mastery of subjects. They also need choice and hands-on approaches that will complement their learning so they can think critically and draw their own conclusions in order to create knowledge from what they have learned. This philosophy guides my instructional teaching.

This 2020-2021 school year, we are 1st grade Master Builders! Parental communication and involvement is extremely important to me. With both, we will create and maintain a fantastic learning community throughout this school year. I will be using both the ClassDojo mobile app as a means to keep in touch with you all. My phone numbers are listed above in the contact information. Be sure to join the app to always stay up to date on what the class is doing and how your child is behaviorally progressing!