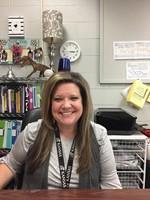 Phone: 205-841-7541
Email:
Degrees and Certifications:
Castleberry Christian High School, Fort Worth Texas Baptist Bible College, Springville, Missouri Iowa State University, Ames, Iowa
Mrs.

Sandy Mahner

Experience:
Private School System, San Antonio, Texas and Paris, Texas
Des Moines Public School System, Des Moines, Iowa
Birmingham City School System, Birmingham, Alabama
Jefferson County School System, Pinson, Alabama
Tarrant City School, Tarrant City, Alabama

Personal:
I have been married thirty three years to my husband Jerry, and have two children, Abby and Gabe. I have a cat, dog, two turtles and a fish. I enjoy sewing, crafting, decorating, photography and antiques. When I'm not teaching I like to go out to eat or go to the movies. This past summer was one of the best ever because I was able to teach in the summer enrichment program, Sprout.

I am thrilled to be a part of the Tarrant City School System! I love teaching and helping Kindergarten students at TES and being a part of their learning! I am also a part of the tutoring program for the after school program at Tarrant working with 4th-6th grade. My goal is for every one I work with to feel that they are special to me and what they do matters a great deal to me!